Sustainability
Columbia Print is committed to reducing its environmental impact by incorporating many sustainable practices into everyday operations. Help us drive this effort by choosing one of our green options during your next order. Learn more about our sustainability initiatives:
Printing
All University stationery is printed on 100% recycled paper. 
We use 100% recycled paper for black and white copies. We use 30% recycled paper for all other printing requests.
All toner is recycled - meaning 100% is diverted from the waste stream.
Our equipment partner, Ricoh, is one of Global 100's Most Sustainable Companies in the World. Ricoh has received numerous other awards and accolades including:

World Environmental Center (WEC) awarded the Ricoh Group the Gold Medal for its International Achievement in Sustainable Development (May 2003).
The Financial Times listing of the "Worlds Most Respected Companies" ranked Ricoh #7 among CEOs-Companies that best manage and effect environmental resources (December 2001).
The U.S. and European Business Councils for Sustainable Energy "Climate is Business" awarded Richoh for its efforts in protecting the global climate, presented at the COP7* meeting (November 2001).
Innovest's "EcoValue 21" Environmental Rating ranked Ricoh #1 out of 11 companies with an AAA rating for demonstrating a balance between business and environmental conservation (July 2001).
Ricoh was recognized with the Council on Economic Priorities (CEP) "Environmental Stewardship Award," presented at CEP's 14th Corporate Conscience Awards (June 2001). Ricoh's long term goal is to reduce lifecycle CO2 and new resource input by 87.5% by 2050.
Ricoh was also recognized by the U.S. Environmental Protection Agency with the 2016 ENERGY STAR Partner of the Year award, read more here.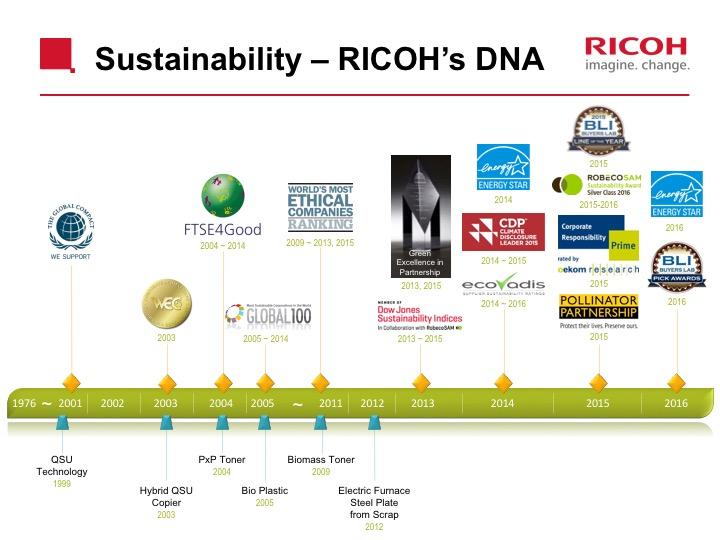 Copier Program
As standard practice, we use 100% recycled paper for black and white copies.
We electronically process thousands of transactions annually via our centralized Copier Program, significantly reducing the amount of paper used previously with external vendors (for invoices, PO's, change orders, etc.)
We have partnered with Columbia University Procurement to decrease the amount of printed invoices via digital scanning.
We bill electronically for all client work.
Columbia Print is no longer printing copier charge statements. To review your monthly charges, go to ARC FDS Reporting to see charges in the "Transaction Description/Vendor Name" column. Charges for copier maintenance are debited to account #63290 and charges for copier lease fees are debited to account #63293. For more information, please contact us at 

[email protected]

.
We participate in Ricoh's toner cartridge recycling program. To recycle multiple containers in their original carton boxes by printing a pre-paid label, visit the Ricoh website: www.ricoh-usa.com/recycling.
The Columbia University School of Nursing and the CUIMC Department of Obstetrics and Gynecology were featured in Ricoh's Sustainability Success Stories publication. Learn more about how the departments reduced their environmental impacts through its collaboration with Ricoh and Columbia Print.
Transportation
Environmentally friendly vehicles (hybrid, electric and clean diesel) are used to deliver and pick up all print materials.
Reduce your personal impact on the environment by following these Sustainable Print Tips:
Set your printing devices to print double-sided (duplex).
13oz of water are used to create a single sheet of paper. 500 sheets (1 ream) = 50 gallons of fresh water saved.
Double-sided printing takes virtually no additional time.
If we saved 1,000,000 sheets of paper (2,000 reams) in a year by double-sided printing, the result would be an estimated reduction of 21.4 tons of annual carbon dioxide equivalent.
Use your department copier instead of a personal printer to reduce energy consumption (electricity) and save money (printers cost more per printed sheet than copiers).
Confidential documents can be printed on your department copier securely by utilizing the user code functionality. Ask us how.
Copiers are multi-function devices that can reduce your equipment fleet by eliminating the need to have separate faxes, scanners, and printers.
Learn more about paper and sustainable forestry here.
Double-sided copying saves trees and is easy to set-up. Watch this video to learn how to adjust your copier settings:
Think "Going Electronic" is Greener?
In a recent commentary, Fred Bercovitch, a wildlife conservation biologist at Kyoto University, challenged conventional wisdom that a paperless workplace is more environmentally friendly than one using paper. Read more here.